Mickleton Mill Blog
February 2017
Tree Planting Weekend
On the 8th and 9th of April we are holding a Tree Planting Weekend. Throughout winter we regularly cut down and prune trees to ensure the Park environment is maintained to a high standard. With 5 caravans to move over this last winter, we have had to fell 4 trees. We also plan to cut a few of the larger, leaning trees down from the centre of the top field to ensure all caravans get their fair share of sunshine.
After a lot of thought, we have decided that it would be lovely to start a small orchard on the Caravan Park, where caravaners who would like to take part in the event can choose what type of tree they would like to plant. You will then be able to hopefully pick your own fruit from the trees at the end of the season. The orchard will be located on the top field (see photo below), and we will be using only dwarf tree varieties to ensure we don't block anyone's view out of their caravan. The smaller trees will mainly be replacing the larger trees. Trees native to Teesdale will also available to plant. Over the next couple of weeks we will be sending out a form asking for anyone to register interest, and let us know which day would be preferable. As we will need to pre-order the trees based on the number who wish to take part, it's really important that you return the form if you're interested. This is a brilliant opportunity for you to have a long term input on the landscaping on the Park, as well as helping with vital environmental conservation.
A hot lunch and beverages will be provided and served outside for all volunteers. You don't need any experience - although anyone with experience will be greatly appreciated!! All ages are welcome, and as usual we would love it if you are able to invite any family. As there will be a limited number of trees we can plant in one weekend, it will unfortunately be filled on a first come, first serve basis. However, if there is a lot of interest, it may be something we do again next year.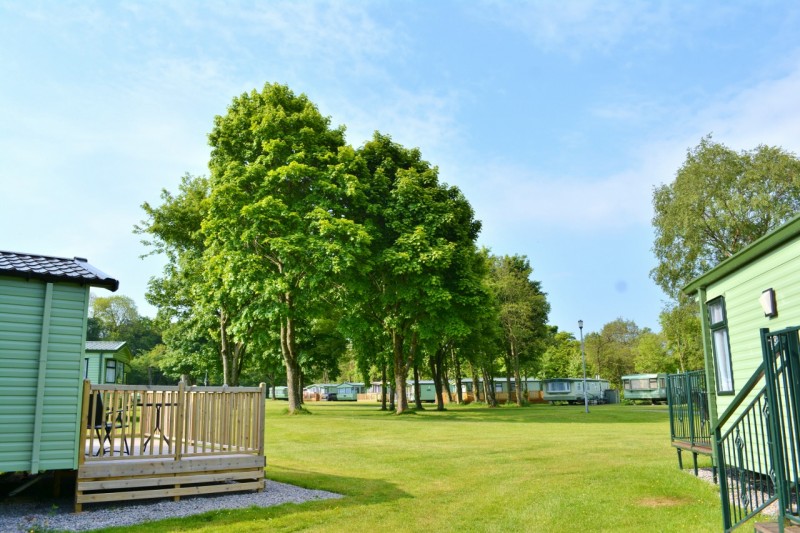 January 2017
Cows, Cows and... Cows!
Calving season has arrived, albeit slightly early. It's once again time for those sleepless nights, anxious waits, heartbreaking lows, but also the incredible reward of seeing the birth of a live calf. This year, it seems that the calving season is starting slowly... which is great! It means that we can ease ourselves back into the routine of checking cows every couple of hours and adjusting our brains to look for all of those signs that suggest a cow is calving.
If you don't live on a farm, it can be difficult to understand why calving is such an important time. For Thomas and Keith, I think it would be fair to say it's probably the pinnacle of the year. It's what it's all about. For a cow, giving birth is quite probably the most difficult thing she ever has to do. In a worst case scenario, calving is the most likely point in which could culminate in the death of the cow or calf. As a result of this, I think most farmers spend more time with their cows than they do their families at this time of year!
All of the cows are housed inside at this time of the year, as the ground is too wet outside and there is no grass growing for them to eat. Just the same as with humans; biosecurity is really important to a successful birth. Consequently, at this time of the year the sheds are mucked out more often, and cows are bedded up with even more straw. We usually have pens designated to only calving cows, so that the spread of infection during the calving process is minimised. A lot of time is spent cleaning and disinfecting pens between cows, so that the new baby calf gets the cleanest start to it's new life!
Once the calf is born, it is vital that it feeds in the first two hours of life. The calf needs to be checked every few hours to ensure it has fed regularly. If it hasn't, Thomas or Keith will guide the calf to do so. This again, is a very time consuming process, with each feeding taking an average of twenty minutes. If the calf has fed, when it jumps up it should do a huge stretch; just like the brown and white calf is in the photo below. Once you see a calf doing this, you can pretty much rest assured that it's able to feed itself. As well as making sure the calf has fed, the navel cord is dipped in iodine to prevent any infection from the bedding.
With around seventy five cows on farm this year, and roughly eighty percent of these due to calve in Spring, we are expecting around sixty calves to be born from February through to April. Hopefully, only a small handful of these will require Thomas's help. Thankfully, none of the four cows to calve so far have required assistance. Below, are the first two lovely calves of 2017!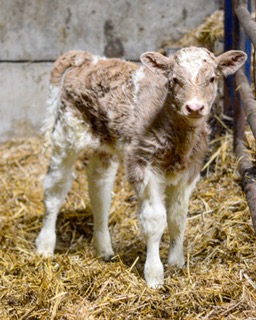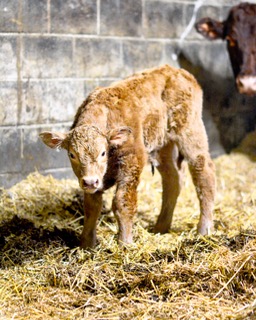 Lambs and Caravans
The start of the 2017 season is nearly upon us! It doesn't seem like two minutes since we closed up the park in October. I have to say that it doesn't quite feel 'Spring like' enough yet to believe that in 5 weeks time it will be all lambs and caravans; as we prepare to open for the first weekend of the season and will have just started lambing!
2017 will see a couple of changes here on the Caravan Park and farm. Firstly, we have moved the reception and Caravan Park office away from the farmhouse, and to near the entrance of the Caravan Park. All payments, gas orders and any other caravan enquiries will now be dealt with this at this new location. We're also happy to say that shop hours have changed, and we will now be open everyday apart from Tuesday. On Saturday to Monday we will be open from 9.00-11.30 and 14.00-17.00, and on Wednesday to Friday we will be open from 10.00-11.30 and 14.00-17.00. Although, just as normal, there will be someone on site at all times. It's also important to note that the phone number for the Caravan Park is no longer 01833 640317, and is now...
Secondly, we will be lambing a small flock of Jacob sheep for the first time on the farm in over 16 years! The ewes were scanned in early January, and from this we can tell that they are all in lamb, and should be due from the 1st of March onwards (although the impatient ones may turn up a little early...).
Our facebook and twitter pages are a great way of keeping up to date with what is happening at the Caravan Park and farm, so why not follow us on there?